Shot a 120 pound doe on the 4th and a nice buck this wednesday.
Nov 10th Cloudy and 49 degrees
Mountain Property
I got onto the site at 1 pm today. After being disturbed by the walkers yesterday I knew I had to relocate to someplace the deer would feel safe.
I dropped my stuff off at where I sat yesterday and proceeded to walk a 300 yard perimeter of where the buck had bedded two days ago. I worked high to low. There was some decent sign up above where I had sat yesterday but when I got down low into an oak tree studded draw there were tons of tracks in the leaves. In addition on the other side of the draw as I crossed it I jumped 4 deer in the low pines. Ok my mind was set. I picked a tree, dropped my bow there and went back for my climber and pack.
I got set up about 25 feet up. Real nice afternoon. Bunches of squirrels doing there thing. One thing I noticed the other day is this property is loaded with acorns. The blue jays are still knocking them down out of the trees.
Back right down the draw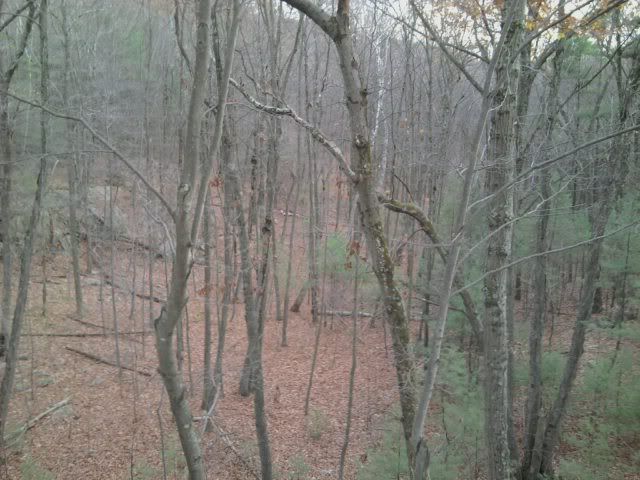 Left down the hill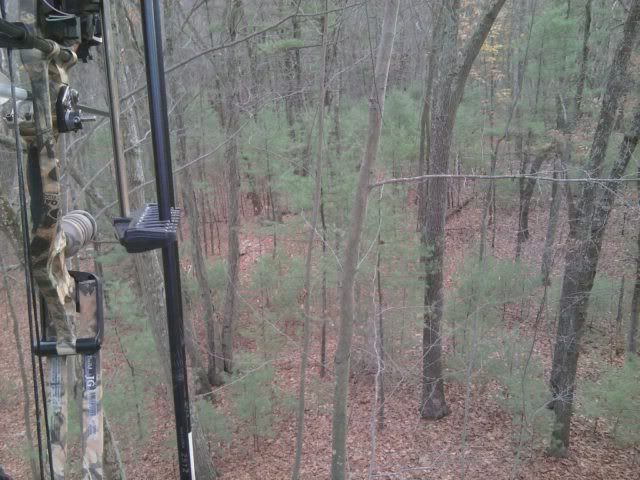 Out in front up the draw where it narrows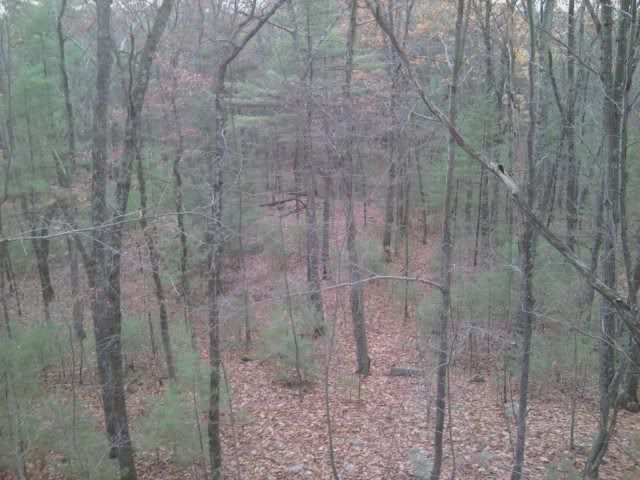 About 4:10 I see movement to my right coming down the side of the hill towards me.
http://www.youtube.com/watch?v=6_MnmHZ-cWc
Unfortunately he moves into the one place I cannot video with my homemade camera mount. He keeps moving away and then coming closer. There is a stump that he seems to be captivated by. He keeps going back to it and either eating next to it. I figure it to be 40 yards away. About the 5th time he returns to the stump he gets his front legs up on it and I have a clear shot. I draw, settle the pin and squeeze.
It looks like the arrow goes just under him. My heart drops.
But.....
He takes off like a raped ape. Crashing through stuff, then I think I hear him thrashing, antler hitting rock or tree.... Could it be?
I climb down the tree, taking my time. I make my way over to the stump to look for the arrow. Its not there. Where did it go? I look to the right and I see half of it lying in the leaves.
Then I see blood, lots of blood.
It was an easy tracking job, he only went 60 yards or so and at the end I walk up on him like this.
Left lung was obliterated and there was a big slice in the heart.
I would like to thank Mbullism, Bassface, Jbozington, Massthru, Baystategamecock for shooting with me at the 3D shoots this fall. I really think those shoots gave me the confidence to make this shot.
Hanging at home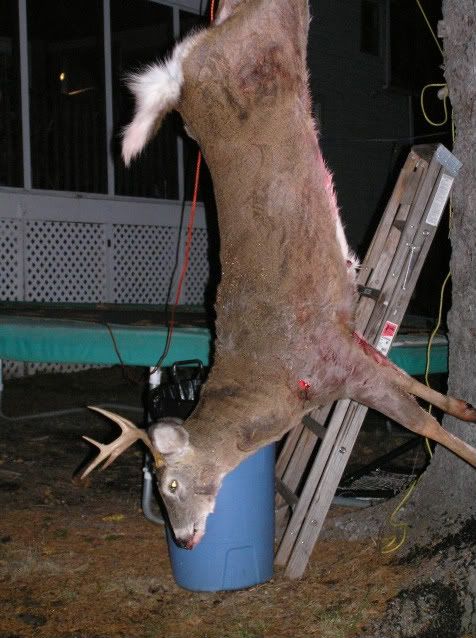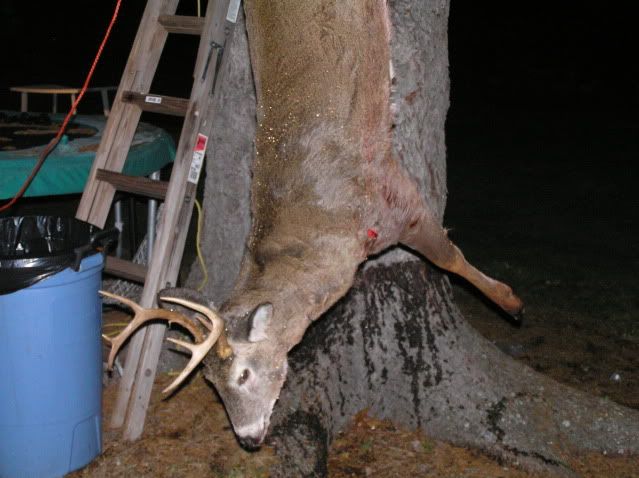 152 pounds dressed